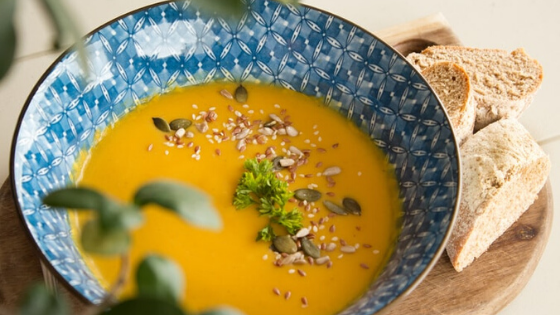 Orange has popped up all around our Austin, Texas, apartment community, as pumpkins, gourds and other autumn-inspired produce have found their ways into various decorative pieces, both inside and out. But did you know pumpkins are just as good for your body as they are for your apartment's aesthetic appeal? They contain ample amounts of beta carotene, calcium, magnesium, fiber, vitamin C and potassium — all elements that are built to boost the health and well-being of the human body.
Of course, most people automatically think of pumpkin pies when this veggie comes into play, but there are actually dozens of different ways to enjoy the goodness of the gourd.
1. Pumpkin Hummus
Take snack time to a different level by swapping out your everyday hummus for a creamy combination of chickpeas, tahini paste and fresh pumpkin with this pumpkin hummus recipe. Your favorite Netflix binge sessions will be even better when you're dipping fresh veggies into this homemade hummus.
2. Savory Pumpkin and Sage Soup
Pumpkin soup is such a great go-to this time of year. It makes for an awesome appetizer before dinner, and if you have any leftovers, it makes for a tasty lunch at the office the next day. The addition of some sensational spices and seasonings — such as sage, ginger, and nutmeg — ensure this soup is flavorful and full of elements that'll excite your taste buds.
3. Pumpkin Fudge Balls
Tell pumpkin pie to take a hike, because there's a new dessert that's ready to sit at the head of the table. When pumpkin puree dough comes into contact with its chocolate coating, the duo will be friends forever (or at least until the entire plateful of bite-sized pieces has been devoured).
4. Fajita Sauce
Sour cream is a notable ingredient in many dishes like burritos, tacos, and fajitas, but it's not exactly the healthiest ingredient you can add to your dinner plate. When you're making Mexican-inspired main dishes, substitute the sour cream with canned pumpkin to make the most of this colorful gift from the gardens.
Are you searching for an Austin apartment where you can get creative and crafty in your own kitchen? Check out the e-brochures available for our Madison at Wells Branch community today!