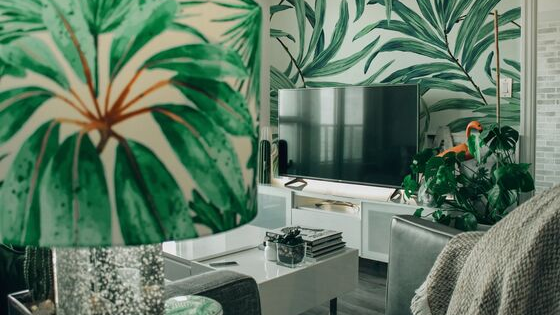 Renting an apartment is often much cheaper than buying a house, but many renters are left disappointed when they realize they won't be able to personalize their space in the ways they want. Most landlords don't allow renters to paint, install window treatments, or make any other permanent changes to the home. Fortunately, these decor ideas for apartment renters will spice up your space, temporarily of course.
1. Peel-and-Stick Wallpaper (on Floors Too!)
Peel-and-stick wallpaper has long been a go-to for apartment renters who want to liven up their space. Don't worry if you're not a fan of patterned wallpaper; solid wallpaper is an option as well. You can also use peel-and-stick wallpaper on floors; just make sure that the product is marked suitable for floor use so it can be swept and mopped without damaging the paper.
2. Tension Rod Room Dividers
If you need more segregated space than your rental apartment provides, use curtains to divide rooms into more private spaces. No need to mount dividers to the walls — tension rods with curtains will work just as well.
3. Removable Tiles
Hate your kitchen backsplash or just want to make it a bit more personal? Removable tiles look and feel like real tiles, but use a safe adhesive that won't damage walls when removed.
4. Updated Shower Curtain Rods
Nix the feeling of a cramped shower with a hotel-style curtain rod. These rods are curved out, giving you more space in your shower without doing major renovations. They're as easy to install as a traditional shower curtain rod!
5. A Faux Fireplace
Build a faux fireplace out of a bookshelf! Paint the inside and add faux logs and a few strands of lights. Done!
Use your imagination to come up with more ways to decorate your apartment that won't cost you the rental deposit. Swap out light fixtures, get crafty with contact paper, and place colorful rugs strategically around your home. If you're not sure if putting something on a surface will cause it to leave a mark when removed, test the product on a small patch of wall in a closet, down toward the floor or somewhere else that is difficult to see.
Madison at Wells Branch offers spacious, well-kept Austin, TX apartments for individuals and families. Contact us today to learn more at (855) 905-0059.